"Moving forward there is a still a great deal of growth potential "
Colin Jakes was initially introduced to Plan-it Cards by his brother Graham, who was an existing Plan-it Cards franchisee at the time. After carrying out his own due diligence, he decided to follow in his footsteps and buy his own local Plan-it Cards Brighton territory
"I had been considering a career change for some time to fit in with my changing family commitments as the manager of a sports centre. I was spending too much time working unsociable hours with not enough time for my young (then) family."
"Being my own boss and therefore having the flexibility to balance work and family life seemed like a very attractive option. However, I had no bright ideas of my own, plus setting up your own business can be risky. I knew that 70-80% of start-ups fail in the first year, but that percentage is massively reduced in a franchise."
"The territory I was interested in, was a re-sale so I knew I had the additional benefits from earning income from day 1 should I choose to take it on. I could see past the business as it was and saw how people like Graham were performing."
"Though I was excited I was still nervous, but it was meeting up with the Plan-it Cards team that sold me on the idea. The team, its proven business model and the training and support package offered was a much safer bet for me."
Starting any business can be a challenging time and a time to learn and face new skills and experiences. Colin's business was no different, but he found the back-up and support of the Plan-it Cards team helped him initially to overcome them much more easily than if he had decided to go it alone.
"I would also recommend that you are someone who has a good work ethic, a 'can-do' attitude and are self-sufficient. Although you are part of a franchise and, to some extent, the work is done for you, you still have to work hard to make your business successful."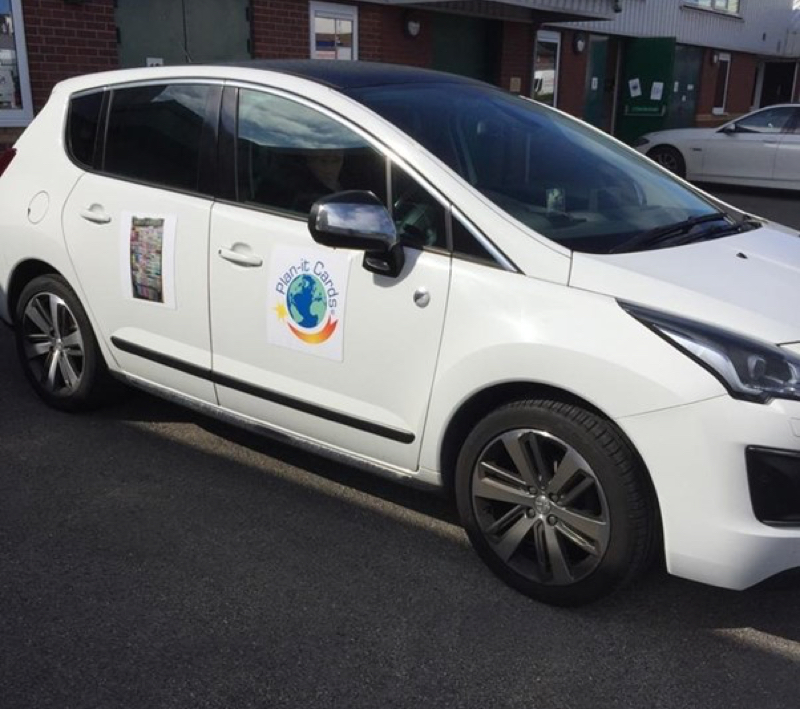 A typical day for Colin can involve making up to 6-8 calls a day – depending on the size of the displays and which part of his territory he is in – to deliver and merchandise greetings cards, gift wrap and gift bags.
The stock is organised to a pre-planned display, so it is important to make sure the product is all up to date with new designs.
"I interact with my customers, build relationships, and get to know them and their needs. I am looking to increase the breadth and depth of the business we do with them at every opportunity. This development work is every bit as critical as opening new sites. It's the most important aspect of what I do."
Colin also manages the essential back-office administration that is involved in any lively business – managing the accounts, stock planning and reordering. Being organised allows him the time to focus 'out in the field' and develop new business.
Because greetings cards are a convenience product the type of stores visited vary from independent convenience stores to post offices and newsagents. "I now have a core base of around 100 shops. Having an initial number of shops certainly helped provide income from day one."
"Each month I am now developing and building up relationships with my existing customers to make sure their displays meet the demands of their customers. I make sure that most of my shops are merchandised monthly and as my business has grown it is important that I am organised, particularly with regards to effective route planning and having the right designs available at the right time to service the shops. This is particularly important with seasonal products."
"Being my own boss is something that I've always wanted. The children are now at university, but I still enjoy what I do. It is hard work, but I am in charge. There is something satisfying in knowing that I am in control of my own time. And the good thing moving forward is that there is a still a great deal of growth potential in my area."