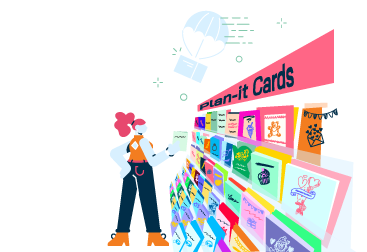 Plan-it Cards is a privately owned independent family business based in Hampshire.
From small beginnings in 2000 with just one range of 66 Everyday designs, the company has grown significantly and now has a UK network of franchisees with distribution in Ireland, Portugal and Spain.
We love greetings cards. It's what we do. We take great pride in each individual design we commission and produce.
Our first franchisee joined in March 2002 and today several of our franchisees in the network have been with us for over 10 years. We are a people business and so we like to think this says a lot about our ethos.
We are full members of the BFA (British franchise association) and the GCA (Greetings Card Association).
In 2021 we celebrate our 21st Birthday and our focus remains to provide the highest quality in everything we do through our product, our service, and our Franchise Network.
Jonathan & Irene Waterson
The management team of Plan-it Cards has extensive greetings card publishing know-how as well as experience in franchising (not just in greetings cards).