Our Retail offer
With Plan-it Cards you only pay for what you sell – that's a promise!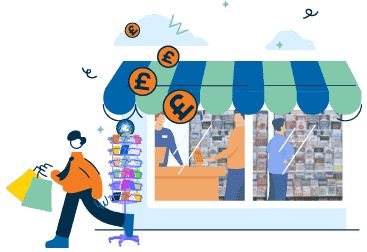 Greetings Cards for your Convenience
Plan-it Cards are the greetings card supplier of choice in thousands of stores across the UK, Ireland, Spain, and Portugal.
Our Retailers are visited once a month by our team of dedicated and local franchisees who merchandise the displays, to ensure they are planned and fully stocked to achieve the best sales.
We operate a simple two-price point system for our everyday cards, making it an easy shopping experience for the consumer and the retailer.
Display equipment is available on free loan.
New design releases are made available every visit and a fresh display installed.
We also offer central billing drop shipment terms if required to retailers in partnership with all the major Convenience symbol groups.
Plan-it Cards – what makes us different?
We combine a passion for greetings cards with the dedication, commitment, and service of our franchisees, to ensure our retailers receives a first-class supply of the best quality product.
We love greetings cards. It's what we do.
We are also called Plan-it Cards for a reason. We plan your displays so that the right card is available at the right time in the right place whatever the season, whatever the occasion.
Our bright displays create a focal point for the shop and consumers can conveniently find the card they want through our use of caption highlighters directing and prompting, and our eye-catching point of sale.
Every Plan it Cards greetings card and gift wrap design is commissioned exclusively by us here in the UK. It's what give us our identity and is part of who we are.
You will not see Plan-it Cards branded designs being used on other greetings cards and gift wrap product elsewhere.
Investing in the best designers and utilising the best suppliers. everything we do is carried out to the highest standards. The inks, the quality of the boards we use and the finishes we apply to our product.
The uses of die-cutting, embossing, foiling and flitter enhance the value of our product, so that our designs really stand out to the consumer. Envelopes are also colour co-ordinated for high visual impact.
We supply a full range of Birthday, Any Occasions/Blanks and the best-selling Occasions, Juvenile Ages, Adult Ages and Relations Cards.
Our range is broad in appeal just like our customer base.
Seasonal ranges (Christmas, Valentines, Mother's Day, Easter and Father's Day) are introduced at the appropriate times of the year.
Our product says more about us than a thousand words and if you need to stock it we have it.
Pulling it all together
Supplying you with the right designs is only part of our story. Many of our retailers benefit from our free on loan display equipment to enhance the shopping experience.
Our Display Equipment & Point of Sale plays an important part in creating the right atmosphere and theatre in your shop to help your customers buy a card. We plan our displays into the setting of your store. Our story is complete with eye-catching Point of Sale and caption highlighters directing and prompting.
Here's a selection of the types of display options that we supply.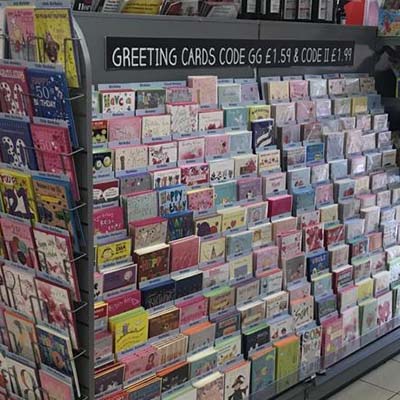 Acrylic Units
Visually striking. Lightweight. Durable. These contemporary 'continuous run' units provide flexible display solutions. With a small footprint they are excellent where space is a premium. Ideal for existing 800mm gondola end space and slat wall.

Dimensions: available in one piece and in a range of widths up to 1.33m with choices of tiers and height up to 2m, 21 tier.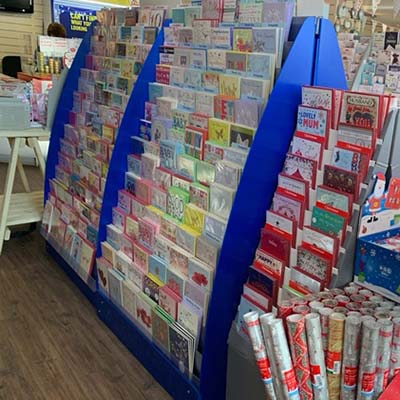 Waterfall Units
Freestanding and built to last. Filled with our eye-catching designs they ensure the product has maximum impact. they create a focal point for your greetings cards message.

Normal Dimensions: 1400cm high and 60cm deep.
Available in 1m, 1.2m and 1.25m length.
Normally 12 tier but 15 and 21 tier also available.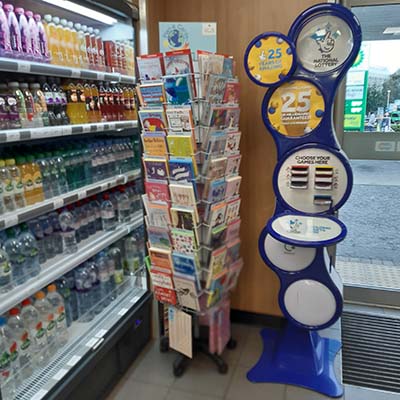 80-pocket Spinner
This stand-alone wire unit makes the maximum use of the smallest space. Showing the full facing of the cards in the pocket the spinner also has hooks at the bottom of the unit to display gift wrap.
A 'wheels' option is available to help move the spinner around the store.

Dimensions are available upon request.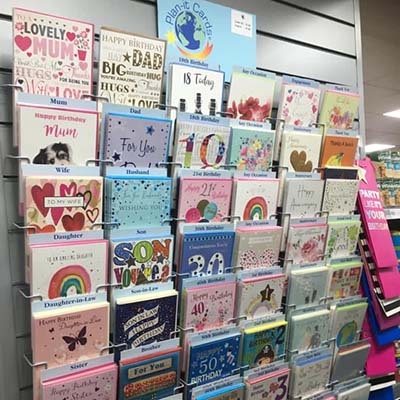 Wire Wall Racks
Ideal for bold displays. Where floor space may be limited e.g. on doors, pillars or awkward spaces. Very flexible, easy to install. Starting with a standard wall rack (2 pockets across and 10 pockets down) a dramatic visual display can be achieved just by adding additional units.

Dimensions: 153cm(H) x 31cm(W) x 6cm(D).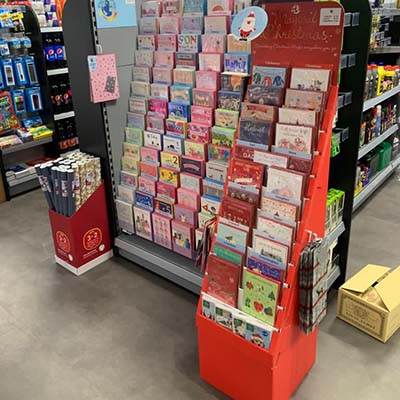 Seasonal Cardboard Floor Stands
To be able to roll out seasonal displays based on the time of year is a huge advantage, it allows you to remain fresh in the eyes of their customers.
Our Floor Standing Display Unit – has 24 pockets (2 cards across, 12 cards high) and has the advantage of taking up a very small floor space. Seasonal Header Boards and Point of Sale wobblers also act as a reminder.

Dimensions: 126cm(H) x 37cm(W) x 39cm(D).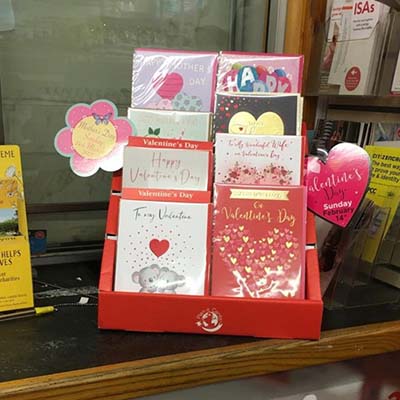 Countertop Display Units
Our Cardboard Display Unit option is more compact and is 2 cards across (width) 4 down (height). Often found next to the till.
They are ideal for creating additional seasonal selling space and theatre at the right time of year. They work on two levels: at drawing attention to the season and capitalising on impulse purchases.

Dimensions: 32cm(H) x 34cm(W) x 26cm(D).
How we operate
We visit once a month, more often if needed. On each visit we replenish your display with fresh stock and introduce new designs as appropriate.
At the end of our visit, we raise the invoice for what has been sold and collect payment.
With Plan-it Cards you only pay for what you sell. There is no stock write off, no initial outlay, and an immediate profit with no financial risk. We keep things simple AND convenient. We have over 400 designs available across 2 different sizes of cards and 2 Everyday price points and bar codes so our range is broad in appeal. Everyday Birthday cards as well as extensive Occasions, Relations and Age titles are available. Packeted gift wrap completes the Everyday display.
Important Seasonal ranges (Christmas, Valentines, Mother's Day, Easter and Father's Day) are introduced at the appropriate times of the year.
Looking to stock Plan-it Cards in your area?
We've got a network of franchisees and merchandising covering all areas of the UK. If you're interested in finding out how we can improve your greetings cards sales get in touch today!