Alistair Black, Sheffield & Doncaster
Territory:
Sheffield & Doncaster
"I feel for the first time that I have the right work/leisure balance as I want to spend more time with my wife Dawn and the family "
Alistair Black was awarded the Plan-it Cards franchisee of the year in 2016. He had been in a greetings card sales role for over 25 years, but his motivation for joining Plan-it Cards was very clear – even at interview. He wanted to create something tangible from his experience and efforts in the greeting card industry. To build an asset, an investment, that he could develop, grow, and when the time was right, to sell on in the future.
"My choice of Plan-it Cards as a business opportunity was originally based on knowing that you are only as good as the product you sell. From being in the greetings card industry I had always been impressed by the quality of Plan-it Cards' range of greetings cards, gift wrap and gift bags" explained Alistair.
"When the opportunity of my local franchise territory in Sheffield came up to buy it was too good an opportunity to miss. I met the team and was equally impressed by the backup provided to support the Plan-it Cards brand."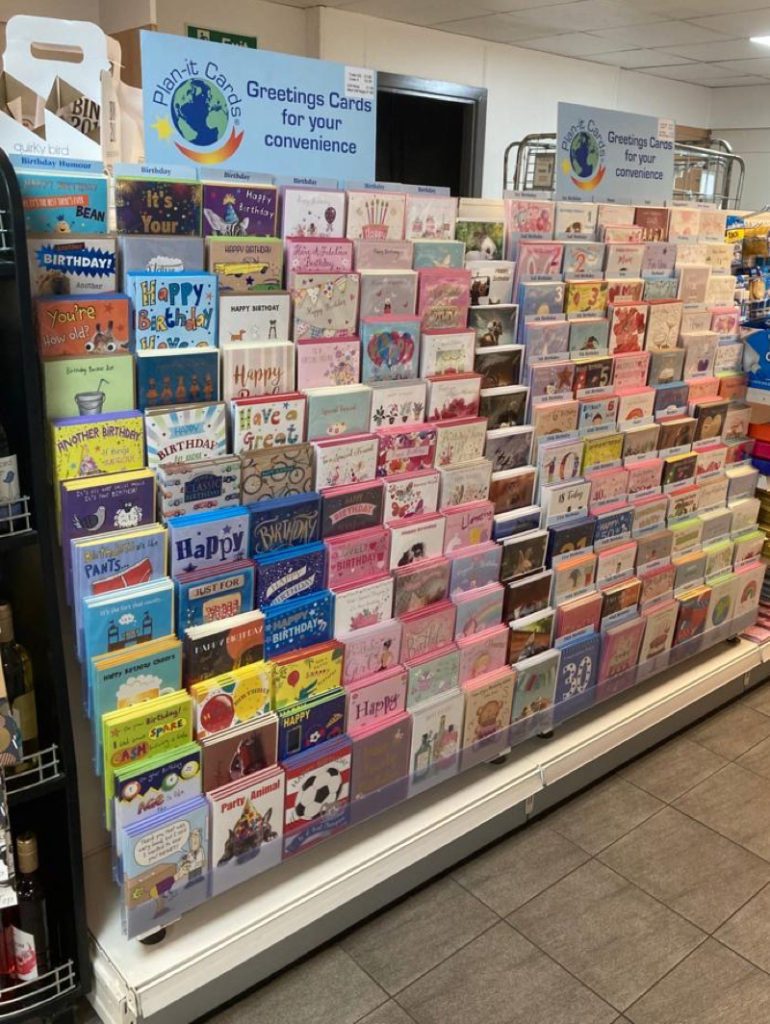 And although Alistair had previous experience in the industry, he knew that he would need added support to help him push his business in the right direction. All new franchisees undertake a week of training to learn how the Plan-it Cards system works. The on-going support provided by the management team to the network also helps to keep franchisees updated with new systems and processes and organised meetings help share ideas and best practice.
''Over the years I'd seen a change in purchasing greetings cards at retail. This change has made greetings cards available in many more outlets, giving more growth opportunities so that now limited space is the most common objection to overcome" explained Alistair. He has capitalised on his vision through a wide variety of shapes and sizes of shop displays supplied to the retailers free on loan. Alistair has expanded his business and having originally operated the business from home, he quickly outgrew the space and now rents storage space nearby. He employs two part-time merchandisers and a packer to help manage his area to best effect.
"You need to have a certain drive to succeed and not be afraid of hard work. I concentrate my time developing the opportunities available in each outlet. I feel for the first time that I have the right work/leisure balance as I want to spend more time with my wife Dawn and family."
Aside from the financial rewards and freedom Alistair has also found other rewards within the business "It's been great to train my staff up and see them and their quality of life improve, I enjoy that more than I could have imagined. Helping someone else grow and develop has given me two levels of enjoyment from my business. The business is rewarding because we often deal with customers who don't fully reach their potential sales in greetings cards and so we give them better sales and margins and that helps them to grow their business."
Alistair has just renewed his franchise agreement for another five years. ''My plans are to keep growing. The pandemic has accelerated the retail scene changes that are happening. The services we offer of regular merchandising and 'you only pay for what you sell' are becoming even more attractive for the hard-pressed independent retailer. Plan-it Cards offering new Everyday product lines, like gift wrap, gift bags and extra seasonal products ensure that as a company we are not standing still."